2018 Florida Vegas Shoot




TOURNAMENT DATES: 2-4 February 2018

HOSTING CLUB: Florida Archery Association shot at the Easton - Newberry Sports Complex

RANGE LOCATION: 24820 NW 16th Ave; Newberry, FL 32669 (Easton - Newberry Sports Complex)

RANGE DIRECTIONS:

From I-75 take Exit 387 and head West on Newberry Road for about 12 miles until you reach the City of Newberry. Take a right at the US-27 N light in Newberry. Continue on US-27 N for about 1.5 miles and take right on the paved road with the "Newberry Sports Complex" blue sign. The range will be located to the left of the Easton-Newberry Sports Complex building.

Register and Pay Now!


SHOOTING RULES/INFORMATION: This is being shot under modified Vegas Rules; they have a few more classes than we are going to have and we are shooting two rounds. No membership required. We are going to have a Championship Division for Men, Women, Youth (12-14) and Cub (11 and under) and Flights. Youth and Cub ages as of the start of the shoot. Flights are open to all shooters regardless of age, sex or shooting equipment, Youth, Cub and Flights are unisex. No awards, cash payout for all Flights and Championship Divisions. All shooters will shoot 20 yards. 3 arrows per end. 2 minute time limit. 20 yards. 2 practice ends. Champion Division must have one arrow in each spot. Flights can have as many arrows in a spot (up to three) as you would like. Extra arrows shot cost you your high arrow and a point (if you have a non-scoring arrow, don't shot another). Registration times are on a first come paid basis. Registration times are not "yours" until locked in with payment.

No multiple registration. You can not shoot both Championship Division and Flights.

Shooting Divisions:

Men Championship
Women Championship
Youth Championship - open to archers 12-14.
Cub Championship - open to archers 11 and under
Flights - open to all shooters of any age and equipment.

Payout:

Championship Division will be paid out using the NFAA Pro Payout on page 41 of the current NFAA Rulebook. Basically it says that there will be 1 paid for 1-3 shooters, 2 paid for 4-6 shooters, 3 paid for 7-9, 4 paid for 10-12 etc. Chart from 2017 NFAA Rulebook.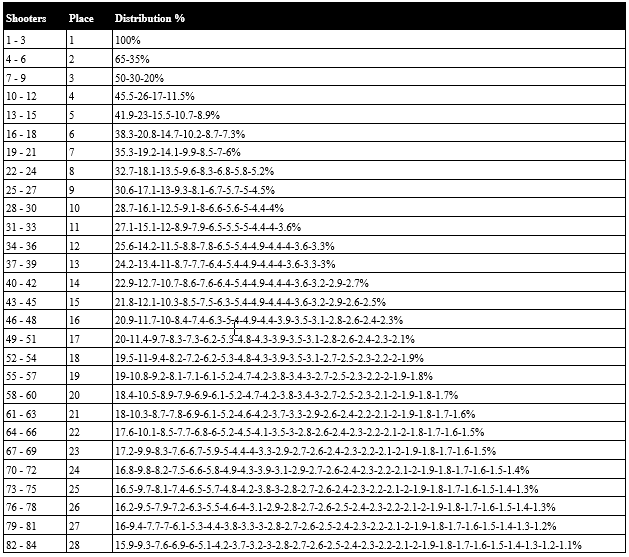 Flights will be paid out 1st, 2nd and 3rd for each flight of 15.



Flighting will be in accordance with NFAA Flight rules for Sectionals and Nationals found under Paragraph G on page 46 of the NFAA Rule Book. Example in Appendix 1. Paragraph 4 deals with ties and unequal numbers. We will flight according to Final score and flighting will be accomplished on the last day of the tournament.





Shoot Fees:

Championship Division - $50.00 - 66% payback.
Flights - $35.00 - 51% payback



We will have shooting times of 5 PM and 8 PM on Friday; 8 AM, 11 AM, 2 PM, 5 PM, and 8 PM on Saturday; and 8 AM, 11 AM, and 2 PM on Sunday.



Open Shooting Times (you pick what you would like to shoot and if it is not full, you can shoot then) - You may shoot all of your rounds on one day if you would like. We are flighting (Flights) by your total score.





We will be utilizing the Archery Range (9 lanes). If our registration gets out of hand, we can probably get use of the gym on Sunday... but on Saturday it is being used for Basketball.

With 9 lanes we will be restricted to 36 shooters per time – 180 shooters maximum (unless we open the other side on Sunday - reminder other side is not as bright so register earlier so you don't have to shoot there) .



Extra Information:



We are not selling space on the line.


Warm-up is outside.



At this time there are no crossbows. If we have more than four asking, we will offer a Championship Division just for crossbows.



We will also offer a Championship Division for Traditional/Longbow if we have more than four wanting to come.



SEND REGISTRATION FORM AND CHECK TO: Florida Archery Association, Timothy O. Austin (Sec/Treas), 1710 S W 76th Ter, Gainesville FL 32607-3418. Phone (352) 332-1969 or (352) 332-1914. Email: flarchery@earthlink.net

PRE-REGISTRATION DEADLINE: Mailed entries should be postmarked by January 24.

LATE-REGISTRATION: Phoned registrations through 1 February accepted for a $2 surcharge payable at shoot. But shooting times are reserved with payment of shoot fees. Registration at the shoot requires full late fee at registration address or at range on Saturday.

SHOOTING SCHEDULE: 5 PM and 8 PM on Friday; 8 AM, 11 AM, 2 PM, 5 PM, and 8 PM on Saturday; and 8 AM, 11 AM, and 2 PM on Sunday.

LUNCH: Drinks and food will be available at the shoot.

ACCOMMODATIONS:

MOTEL INFORMATION IS FROM LAST YEAR.



Fairfield Inn by Marriott Gainesville

6901 NW 4th Boulevard

Gainesville, FL 32607

Phone 352.332.8292

Email Rita.Colucci@CWHotels.com

Web FairfieldInn.com/GNVFI

Marriott.com/GNVFI




*Be sure to reference the event block (Fla Archery State Championships) when you call for reservations.


Quality Inn – Gainesville (Williston Road and I-75)


Quality Inn = $72.99 per night phone 352-378-2405

3455 S W Williston Rd, Gainesville FL 32608

Located at Williston Rd and I-75 up hill behind 43rd St Deli


CAMPING INFORMATION:


Williston Crossing RV Resort, 410 N E 5th St, Williston FL 32696 (phone 352-528-7100).


(about 9 miles from range)


Resort has 2 people per camper… extra charge for more people




MISCELLANEOUS INFORMATION: No Membership required.

ADDITIONAL INFORMATION: If you have questions, please contact Oliver.


---
---
Web site and contents created by the Florida Archery Association
Copyright © 2017 Florida Archery Association, All rights reserved.
Revised: Oct 12, 2017.