---
Services: A mass of christian burial will be held at 10:00am on Thursday, August 27th at St. Mark the Evangelist Catholic Church on Highway 42
---
Royce C. Brower Sr 09/18/1918 - 04/03/2009
picture
picture2
obit
Royce Brower was one of my dearest, long time friends. We traveled to National and Sectional Tournaments together and we shot together by choice at State and Regional events year in and year out... and often he took my money, just for the fun of it. Royce is in a better place now, enjoying permanent Field Ranges in heaven and occasionally playing his trumpet for good measure. At just after midnight, this morning, at age 90, Royce went to sleep. He was a life member of the National Field Archery Association, the Florida Archery Association and Citrus County Archers.
We were almost 20 years apart in age, so I frequently called him "grandpa", but we were always happy together. Royce earned almost every recognition available in archery. He was a member of the Florida Archery Association Hall of Fame for his athletic ability and received the prestigious Dillard Bucklen Award for his constant support of archery at the local and state level. He brought members to our sport, and was always willing to help with work needed. In 1976 he was NFAA Senior Male Freestyle Champion back when Senior Division was a courtesy separation, and then in 1996 he brought home an NFAA Silver Bowl as Champion Senior Male Olympic Compound. He was several times Sectional Champion and many times over Florida State Champion. Several years ago, when I separated FAA Records into single event groupings, Royce held 16 state record scores.
Royce was a real believer in the Senior Olympics and attended the National Event whenever he could. In 1995 he was 75+ Male Compound Release Champion and his 1665 score is still the fourth high overall score for that age group. His 812 individual round in 1999 at Disney is the second high score for that age group still, and his 1599 total still remains 4th on the records list for 80+.
Royce is survived by a loving family that includes sons Peter, Paul, and Buster and grandchildren. He was engaged to his caregiver and companion, Dottie Hageman who was always by his side these past few years. He and Dottie had a shared love and ability as archers and friends. Tim.

---
Fred Stahl 04/13/1936 - 01/21/2009.
Fred Stahl passed away yesterday - age 72.
Four days ago I was talking and visiting with a very active Fred who was feeding all the competitors at this year's FAA Unmarked 3-D Championship. He curtailed his shooting at the event so that he could help everything run smoothly at the club. Sunday afternoon I waved goodbye to Fred as I headed North from the Lee County Archery Range, with no thought in the world that it might be my last time seeing my friend and shooting companion.
Fred has been an FAA/NFAA member for the last nine years, has been an extremely active and skilled competitor. He was FAA Champion shooting Senior Bowhunter Freestyle in 2000 (3-D) and in 2003 and 2004 (Field). In Master Senior competition he has competed at the National and Sectional level as well as earning FAA Champion awards at the 2005 and 2008 International and the 2008 Marked 3-D tournaments. At this past December's NAFAC, Fred was 11th out of 26 freestyle archers over age 55 with a score of 1568 and his 833 at the Florida Senior Games placed him 3rd.
Fred is survived by his wife, Marilyn... two daughters, including Michelle who was Adult Female Freestyle Champion last weekend, and grandchildren.

---
Robert D. Horden 3/3/1946 - 10/9/2008. Robert D. Horden lost his battle with cancer at age 62 this past October in Detroit, Michigan where he had moved to be with his Sister, Ann Rapin, in his retirement. Ann wrote that Bob went into the hospital on Aug 21st for cancer surgery and that the surgery was long and complicated. Bob came through it, but many complications set in after and his organs began to shut down one-by-one.

Bob Horden was a past officer of Daytona Archers and a past North Florida FAA Vice President. His 34 year NFAA membership started in 1975 when he was actively shooting Bowhunter Freestyle Limited... at a time when the style was extremely popular. He was inducted into the FAA Hall of Fame for his Administrative accomplishments.
---
William C. "Bill" Parr 4/25/25-10/2/08 age 83, lost his over five year battle with cancer four days ago. An active member of The Villages Archery Club, Bill competed outside his club primarily in Senior Games 900 Round events. He was a member of FAA for 6 years.
---
Robert L. "Bob" Evans (1943-2008) lost his fight with lung cancer on 18 September 2008 at age 65. Bob was a skilled archer who has been active in FAA/NFAA shooting for the past six and a half years. An "A" Class Freestyle archer, Bob was a member of Citrus County Archers was seen regularly at shoots in North Florida and at State shoots as well. Many will remember that Bob volunteered to bring the Mats and Stands to the Senior and the Sunshine State Games last year. Bob turned his hobby of stained glass work into a business, and many of our homes have his beautiful work displayed. -

Picture

HOYT Ann (nee Weber) World Renowned Archer, devoted her life to becoming a world class Archer. Born March 29, 1922 in Bloomfield, NJ., passed away quietly at Glendale Care Center April 5, 2008, one week away from celebrating her 86th birthday. Many Archery friends and her adopted Ann Clark Family were in attendance. The Archery World will miss this fierce competitor and gentle Giant who paved the way for many to follow. Her life was archery, since discovering her fascination in high school with the sport at the early age of 15. She went on to graduate Magna Cum Laude at both Bloomfield High School and her alma mater Montclair University. Graduating as a Science Major she never realized her potential for teaching. Ann represented both schools winning many titles as an archery representative in local, state and national competitions. Never looking back or regretting her decision she went to work at Robin Hood Archery Company in Montclair, NJ doing menial tasks working up to general manager. Along the way she shot her bow and arrow competing in National and World competitions where she remained until her marriage to Earl Hoyt Jr., A world renowned Bowyer of Olympic style competitive hunting bows. A marriage made in heaven, as far as the Archery World was concerned. The World's leading Female Archer joined with the World's leading Hoyt Bow manufacture. She moved to Bridgeton Missouri for the marriage in 1972 and remained at Earl's side working together in the factory and traveling the world promoting Archery, until Earl's death in 2001. Establishing the Archery Hall of Fame was their Life Long Goal. Due to their generosity The Archery Hall of Fame is a reality. Together they established a scholarship program in Columbia, MO. Ann was a charter member of the Diana's, the first organized all ladies bow hunting group, and the Lovers of Outdoors from 1986 to present. Headed by George Gardner along with lady bow hunters through out the United States. Ann Hoyt was a great humanitarian who was silent in her work with charities and friends in need. The Archery World loved her, as did all that came to know her. Her final years were spent with long time competitor and friend of 60 years, Ann Clark. They established a home in Historic Glendale after the passing of Earl in 2001. Ann's request is to be cremated and have her ashes placed in the Archery Hall of Fame. Visitation will take place Wednesday at St. Gabriel Church 48 W. Sharon Rd., Glendale, from 10 AM until Mass of Eternal Rest at 11AM. In lieu of flowers donations may be made to The Archery Hall of Fame 58 North Main St., Union City, PA 16438 or Hospice of Cincinnati. Hodapp Funeral Home, College Hill, is serving the family.

Steve Gibbs, founder and owner of Sureloc Sights, lost his eight month battle with cancer this Sunday. We have lost not only a superior innovator and archer, but also a friend, a companion, and a leader in our sport.

I am sure that a proper obituary will be written and published by someone closer and better informed than I, but Steve was a welcome guest in Florida. For years he was a leading Freestyle Limited competitor: at the 2003 National Senior Games he was gold medalist in 50-54 Male Compound and Fingers, posting a double 900 Round score of 1660... still the sixth highest total score posted in that age group at the National event. More recently he played with Freestyle as well. He shot in our 2006 NAFAC at age 58 and he visited his good friend Gary Simonds here in Gainesville and shot around our Field range with Gary and me.

Steve was always helpful, and I always found him gracious, helpful, and a friend to all archers. He has been taken from us at much too young an age, and long before his time.

Buddy Legate 4/6/54 - 3/3/07.

Buddy Legate was killed March 3 in a motorcycle accident. He's being cremated. Buddy was the one that created and manufactured the Bow Maniac Stabilizer and loved the sport of Archery. We just wanted to let everyone know.

Buddy was 52 years old and last shot in the State and Sectional 3-D in 1998. He was an FAA Member in 1994, 1995, 1997, and 1998.

Service for Buddy will be Saturday (Mar 10) at 11 AM at the Jupiter Elks Lodge. It's in the same shopping center that his liquor store was in on the NW corner.

Roy McFarland - 3/21/47 - 3/5/07 - The archery community lost a giant for our cause Monday. During the '80's and early '90's, he was one of the best instinctive bow hunters in the USA. Roy was past-president of Ky Archers assoc and KY NFAA state director for many years. Roy won many awards at national tournaments and was always competitive in the top of bow hunter class. He was a staff shooter for Bear archery and Martin archery in his prime. Roy McFarland passed away Monday due to complications from esophageal cancer. He leaves behind his wife Carolyn and two grown children Allison and Craig. Roy will be laid to rest in Lexington later this week, arrangement are pending. Roy get your bow, your up on target #1

With great sadness, I learned that my good friend Charles Walker left us on Thursday, 28 December 2006. Charles had fought valiantly for years against heart disease, cancer, lime disease, accidental injury, and finally stroke… and yet, for the 13 years I have known him, he has continually volunteered and worked to better our sport and those interested in learning its various skills. A multi-talented, brilliant, and skilled man; Charles was never idle – always working to build, manufacture, repair, document and better the world around him. He excelled as a scientist, an archer, an instructor, a fly tier, a wood carver, and a manufacturer of kaleidoscopes… just for a start.

Charles received the NFAA Medal of Merit in 2001, presented by the Florida Archery Association for his unselfish development of programs and youth development in our state. A State and NFAA Life Member, his affiliation with NFAA goes back 52 years. He has also been involved with NAA for years, donating his time as a level four instructor and as a National Judge working with both traditional archery and competitive recurve crossbows and officiating at Local, State, and National events. Charles and Carmen Walker donated funds, time, and guidance to develop their Church's Summer Camp, and Charles instituted a training program and a youth instruction program there that was a template for effective, successful youth archery development.

While Charles wrote extensively as a scientist (he was retired from the U.S. Fish and Wild Life Service), he also used his communicative skills for Archery. He produced two volumes of Fish and Wildlife Cookbooks, one for Wildlife Recipes and one for Fish and Seafood Recipes. He wrote a series of archery articles about shooting, hunting, and maintaining equipment. He developed and initiated our Florida Archery Association Scholarship Program that continues to provide funds for young people to further their education.

Charles R. Walker will be missed in Gator Bowmen, in the Florida Archery Association, and around the country; but he will never be forgotten. We express respect, honor and praise for our special and faithful friend.


There will be a Memorial Service for Charles at the 1st Presbyterian Church in High Springs, Florida at 3 PM on Saturday, February 10th, 2007. Tim Austin

10/3/06 - Duvall, Margaret

R., 63, of Eustis, passed away on September 26, 2006. Maggie, as she was dearly known, was surrounded by her family and friends through her final moments. She is survived by husband, Bill; son, Travis of Orlando; daughter, Tracy Schrager of Longwood; sister, Suzanne Sutherland of Warrenton, VA; grandchildren Sam, Jonathan and Daniel. A memorial celebration for family and friends will be announced at a later time. In lieu of flowers, please send donations, in Maggie's name, to Juvenile Diabetes Foundation, 279 Douglas Ave.,Suite 1108, Altamonte Springs, FL 32714, 407-774-2166.

The above is from the Orlando Sentinel Obituaries on the passing of one of my (our) dearest friends. Maggie and I , because of our common health issues, had many conversations. Maggie always had a very positive outlook through her long and difficult bout with cancer. The most notable, was her desire to live for her grandchildren, whom she dearly loved and was so very proud of. A proud , loving, wonderful lady. We will miss her always positive outlook. Fred.

Maggie was an FAA member for 15 of the 20 years that Bill was a member (from 1978 to 1998). Maggie shot Freestyle Limited.
---
9/22/06 - Today I received a letter from Sandy Nothdurft, Chuck's Daughter, responding to a postcard I had sent and letting me know that her dad died 30 December 2004. She told me that his new address is "heaven" and that his plot is in Bay Pines Memorial Center (#E263) in St Petersburg. She let me know that "Chuck is available to chat with anytime you want to - Just go to God!"
Charles Condra Nothdurft was born 28 March 1928 and lived 76 years. Chuck joined NFAA in 1946 and was active for 12 years... took a vacation for a few years and then rejoined in 1981. He was a Life Member of FAA and NFAA with 36 years of membership. His last state shoot was the 1998 FAA Indoor Championship at Ridge Archers in Lakeland.
Chuck and I shot Senior Male Freestyle together and I was fortunate enough to be grouped with him several times. He and I shot together at one of the Sectional Field Championships in Clemson, South Carolina and somehow one of my arrows wound up countersunk in one of his... My silver Easton X-7 shaft stuck firmly in his pretty blue Easton X-7, and he allowed me to keep the nice "trophy". It hangs in my study as a reminder that every once in a while we get lucky and shoot a really accurate, good shot.
Chuck also earned the "Robin Hood" award in his years of competition... that and perfect animal award, all three 6-Golds and various Field/Hunter/International pins and bars. A dedicated, lifetime archer, he was one of the forces behind Suncoast Archers in St Petersburg and often carried his friend, Dick Evans, with him to shoots, including the Indoor in 1998. Dick Evans left us at age 93 a year and a half before Chuck... and now I'm sure they are trading their shared times in God's perfect archery range.
---
9/15/06 - Wayne O. Hageman was killed in a traffic accident in April 2006 at age 74. His wife, Dottie was with him and was seriously injured and has just gotten home from Rehab.
For those of you who don't know the Hagemans. They were both very active archers and members of FAA and NFAA from 1985 to 1988 and from 1997 through 2001... 9 years. Wayne was NAA Indoor Champion in 2000 as a Master Compound Release with a score of 1132. He was a talented archer and developed a technique of shooting with only a single fletch on his arrows. Dottie also is a skilled archer. She holds Florida Senior Games records for 65-69 Female Freestyle and 70-74 Female Freestyle and she also is the current record holder for Senior Female Freestyle for the Sunshine State Games International Round. She has been an FAA Champion 10 times.
Wayne and Dottie had gone to Bike Fest this last April and were returning home when a vehicle pulled out in front of them. Instead of driving into the vehicle, Wayne dropped the bike on its side and went under the vehicle killing himself, but allowing Dottie to survive. She had both upper leg bones broken, a lower leg bone and ankle broken, a smashed hip... and has been in the hospital and rehab these past five months. She is 77 years old and the doctor originally told her she wouldn't be able to walk, but she is now able to walk with a walker and is determined to get back to normal.
I spoke to Dottie on the phone today: Her phone number is 352-742-1122.
Her address is: 34 Kono Cir, Leesburg FL 34788-8762
Dottie indicates that there will be a memorial service for Wayne on October 22 at the Clubhouse at Molokai (their mobile home community) which is located on Road 473 just East of the Mall in Leesburg. The time isn't set yet, but will probably be in the afternoon.
I'm sure that Dottie could use some help from any friends who might be close enough to do so.
---
7/3/06 - Bill Bishop had called last Thursday (29 June) and left a message that Gina had died that morning. Gina was an absolutely lovely person and all of us will miss her both on and off the archery range.
Gina was in her 15th year of FAA/NFAA membership and was a Life Member of FAA and NFAA... she was 67 years old.
Gina earned Champion awards at the 1994 Southeast Sectional Field and the 2001 Southeast Sectional Indoor. She earned State Champion awards at the 2000 FAA 3-D, the 2002 FAA Indoor, and the 2002 FAA International. She competed Senior Female Freestyle.
Gina's viewing was today and her funeral is tomorrow.
Those desiring to contact Bill... his mailing address is: 307 South 8th Avenue, Wauchula FL 33873-3115.

---
7/2/06 - Long time Tennessee archer, who attended many sectional shoots in Florida and the Southeast, Sherrill Ramey passed away.

Sherrill Ramey was the Southeast NFAA Pro Representative for quite a few years. A gentleman, and well liked wherever he went. Sherrill recently lost both legs as a result of diabetes, and the disease finally beat him. He was born in 1947... was age 59 at death.

His funeral will be Thursday (5 July 06) at 4pm at Unity Mortuary, 1425 McCalla Ave, Knoxville, TN 37915.

http://www.legacy.com/knoxnews/Obituaries.asp?Page=Lifestory&PersonId=18352026

---
Miriam Tierney (1925-2006) passed away last Saturday, 27 April. She had suffered a stroke in early April. Miriam was a life member of FAA and NFAA and had been a member for 37 years. She was a longtime active shooter, loved by many, who shot at all levels for the love of the sport. She was State Champion as a Senior and Executive Senior ten times between 1993 and 2004 and she held twelve state records in the FITA and 900 Rounds. At the State level, Miriam donated her awards to the organization: She shot competitively, but for the love of the sport and the companionship with her friends. Those of us who shot with her often looked forward to her companionship and her skill. We miss you Miriam...

---
3/2/06. I'm very sorry to report that Lee Austin (Brevard Archers) lost his wife, Jackie, last week after over 50 years together.

---
1/30/06. It is with great sadness that I must report that Barry H. Williams, long
time leader in Gasparilla Bowmen, lost his fight with cancer last
weekend. Barry was 52 years old. He has been an officer/director of
Gasparilla for most of the 23 years that he has been a member of FAA and
NFAA. An active shooter since 1981, Barry was FAA State Champion Indoor
in 1990 and 1995 and International Round in the same years in our most
contested division, Adult Male Freestyle (in some organizations called
Open). In 1990 his Indoor double round was a 102x 600. He was active
in both NFAA and ASA competition and well thought of throughout the
Southeast. In 1983 and 1993 he had perfect distance scores on the 810
round at both 40 and 60 yards, and in 1993 he posted 199 out of 200
possible points at 50 yards at the 600 Round. Barry will be missed on
the range and in our friendly get togethers. He is survived by his wife
Stella who is also an active longtime member and a skilled shooter.
Funeral services will be held on Wednesday 1 FEB 2006 at ST. Lawrence Catholic Church in Tampa from 1030 am-1230 PM Mass at 1230 PM and then he will be laid to rest at The Garden Of Memory .
Viewing 10:30 - 12:30. The Chruch/School is on the Southeast corner of Himes and Hillsborough.
---
Henry "Moe" Martin, age 85, Life Member of FAA/NFAA and 23 year member.Mo died Saturday morning, 10 December 2005. He was active in Citrus County Archers and and a friend to all who came to shoot there. He last shot in a state event at the 1999 Senior Games.
I regret that I have to notify you of Henry's passing ( to a better place as he put it) . The past few months, he had been unable to shoot, so he had reacquired a taste for playing the guitar. Henry was a retired Air Force officer. Lifetime member of the NFAA & FAA & Citrus Archers. Henry was the FAA Sr Men's Barebow Field Champion at Gator in May 91. His stories about falling out of the back of a pontoon airplane while on a fishing trip, and the time he got a moose with his bow are fond memories. He had a great sense of humor and a quick wit. Henry will be missed.... Services are expected to be at the veteran's cemetery in Bushnell on Friday 12/16, (But they are not certain yet) .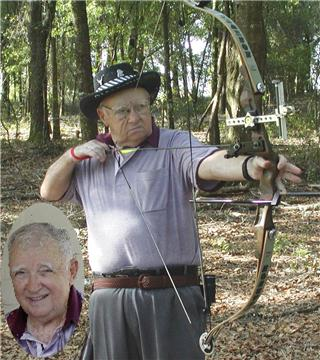 ---
Gordon Bell (not a current NFAA member) but active in Florida in the winter time from 1988 to 1998. He was a Canadian who spent winters in Florida near Citrus County archers so that he and his wife Ann (previously deceased) could shoot. They last shot at the State Senior Games in 1998. He was 79 years old when he died on the 25th of November 2005.
---
Roy Bovee, 20 year member of Gator Bowman, died on 11 November 2005 in the evening. He had been back in
Melrose
(from
Canastota, New York
where he spent the warmer months) for several weeks and had been out at the range with the Wednesday work party. At 81, he was still very active and an unbelievably good shot considering his youthful octogenarian status. On Friday, 28 October, he was quite sick and his doctor sent him to
Alachua General
Hospital
. They ran tests but could but not determine what was wrong. He signed himself out to take
Florence
home for the weekend. He didn't do well at home and continued to be getting worse, and Sunday morning he was only semi-conscious and couldn't get out of bed.
Florence
called an ambulance and he went back in the hospital. He never regained lucidity. They ran every kind of test but still failed to discover what was causing his symptoms, and he continued to go down hill.
Florence
finally stopped the doctors from prolonging his agony and after two weeks in the hospital, our good friend slipped away. He had never been sick a day in his life before this. At last word, the doctors suspect a form of meningitis. --
Roy
was a life member of FAA and NFAA and was a dedicated worker in our move to our new range, helping to lay out the course. Every year he pasted all of our shooting faces, and he was one of our few dedicated attendees at our club meetings. He has been active in
Florida
since 1986, but much longer in
New York
.
Roy
was Executive Senior Freestyle Champion in
Florida
at the 2002 and 2003 marked 3-D Championships. He was active in the Senior Games movement and attended some Sectional and National tournaments. He was a very good friend and companion and we will greatly miss him.
---
FAA/NFAA Life Member Thomas R. "Dick" See died about four years ago in 2001 at age 85.
Dick was a member of Suncoast Archers and not active in recent years. He was a member of FAA and NFAA for 22 years.
---
July 5, 2005
Joe (Joseph F.) Schottmiller was an out of state (snowbird) member of Florida and an active member of the Aripeka Archers when he was in Florida. He's been shooting with us for at least seven years. He regularly shoots in our International Round Championship in the spring and is the current record holder for single, double, and triple International Round at that event for both Senior Male Bowhunter Freestyle and Master Senior Male Freestyle Limited. At the National Field at Watkins Glenn, Joe always joined the Florida member photo. He's been a member of NFAA for 41 years.
Joseph F. Schottmiller June 30, 2005 of Grand Island. Husband of Eleanor (Keller) Schottmiller; father of Donna (Keith) Dodge, Brenda (Brian) Williams, Joseph A. (Kathleen), Diana (Steve) DeMarco, Tina (Mark) Lovell and Harry (Debbie) Schottmiller; also survived by seventeen grandchildren and one great-grandson; brother of Eleanor Mowers, Mary Uhle and the late Francis, Robert and Emil Schottmiller; son of the late Emil and Eleanor Schottmiller. Friends may call Tuesday only 2-4 and 7-9 PM at the KAISER FUNERAL HOME, 1950 Whitehaven Rd, Grand Island. A Mass of Christian Burial will be celebrated Wednesday at 10:00 AM at St. Stephen's Church. Flowers gratefully declined. Memorials to the Double T Archery Club Youth Program, 1110 North French Rd, Amherst 14228.

Here is the link and when you get to the obit, friends can sign the "On Line Guest Book". Maybe the Florida friends may want to sign the "Guest Book" for Joe's wife.
http://www.legacy.com/buffalonews/LegacySubPage2.asp?Page=LifeStory&PersonId=14416020
If this is too much to "cut & paste" then go to:
www.buffalonews.com
On the left side of the page click on "Deaths", when you get to "Death Notices and Guest Books for 7/3/2005", scroll down to Joe's name.
---
Feb 4, 2005
Walt Speer, longtime member of Ridge Archers, died shortly before his 74th birthday a couple of weeks ago. Walt was last an FAA Champion at the 1992 Indoor where he shot Senior Male Bowhunter Freestyle and won with a score of 590-70. In 1983 he shot perfect 270 scores at 40 and 50 yards on the 810 round. He was an FAA/NFAA member for a total of 11 years from 1982-1989 and from 1991-1993. His brother, Ralph Speer (age 75) is an inactive FAA State Life Member.
The Speer brothers are super fine people, and Walt will be missed as he travels to the great archery range above.
Ralph can be contacted at 535 17th St NE, Winter Haven FL 33881 - phone 863-293-7503.
---
Jan 5, 2005
FAA/NFAA Life Member, and former FAA South Vice President Jim Steffens died at age 76 after a year long battle with cancer on 24 November 2004. His wife, Sharon, sent me a copy of his obituary with a Christmas Card.
Jim was one of the founding members of Treasure Coast Archers and is a member of the FAA Archery Hall of Fame for his state administrative accomplishments. A member of NFAA for 39 years, Jim had not been active on the tournament scene for the past ten years, but he maintained his interest and contacts regardless. He and Dillard Bucklen formed a nucleus for archery in the Ft Pierce - Port St Lucie area and were instrumental in developing clubs and activity in the South Florida area.
---
Jan 5, 2005
Lee County Bowhunters club member Dan Woosley age 39 from LaBelle Florida, passed away last Thursday. For further details, look up Fort Myers News Press on the internet. There is a very sad article in todays paper. Dan was the treasurer for Lee County Archers for several years. He was always well liked and well respected. He also ran the archery and firearms section of Jenning's Hardware in LaBelle. The store has been owned by his family since 1909. Danny will be missed very much.

Some of the details are:

Danny was murdered at his home last Thursday evening. He was found by his brother Larry later in the evening. Apparently, a pickup truck belonging to Danny, was stolen and was found yesterday in Collier county. The suspicion is that it was stolen by an escapee from the Hendry County Sheriff's jail in LaBelle, who escaped just before Danny was shot to death. There was some tie in between the escapee and Danny in that, Danny had taken the person in at one time. In a related item, a 14 year old girl who was in some type of court ordered holding in Lee county (I think it might have been a juvenile home of sorts) left the place at about the same time. She and the escapee had some sort of relationship. While the pickup was located, the escapee has not yet been taken into custody.


There was something going on at the store yesterday afternoon even though it appeared it was not open for business. Danny's brother, Larry, indicated the store would probably open Monday. The newspaper indicated they were cleaning the aisles and
straightening up the store - not sure why this was stated but, I am wondering if something took place there before the murder that has not yet been disclosed. Guess the tale will be unraveled as time goes by. Ken.

UPATE:


The Hendry County Sheriffs office took the suspected murderer of Danny Woosley into custody last evening. He has been charged with Jail breaking in his initial arraignment. So far, no further charges have been officially made. The 14 year old girl thought to have been with him, was not located and, there now seems to be some question as to whether she ever was. The newspaper says a gun was found on the ground near where the suspect was apprehended but not further information was forthcoming on that. The trail seems to have gone something like this, in the pickup truck stolen from the residence of Danny
Woosley he apparently fled North and, abandoned the truck in a field in Collier county. His next steps are apparently unknown, at least at the moment. He subsequently stole a car in Immokalee, South of LaBelle. He was apprehended
in or near Muse, in Glades county, North of LaBelle. This is, apparently, near his families home where he grew up. (Also, about 2 or 3 miles from where we live) He was spotted in the car stolen in Immokalee and, gave up with no incident.
The Sheriff's office returned to Danny's house again after the apprehension. I suspect that he will be charged in the murder sometime today.

UPDATE:


Today's paper is starting to put the picture together. Seems the suspect, who was a Trusty in the Hendry county Jail in LaBelle, walked out of the facility undetected until a later roll-call. He took off his prisoner garb and hid it under a car in the parking lot. Then, walked the 2 miles or so, down Hwy. 29 to Danny's house. Broke in and, further broke into a room or area where Danny kept his guns and knives. Apparently, Danny came home and discovered the guy in the midst of the robbery. The suspect fired bullets (I think it said four) at Danny, striking him in the chest and head. Then, stole Danny's pick-up and left the area. The Sheriffs office, when they apprehended the suspect, found a gun at the scene - alongside the road. The paper says it is thought to be the murder weapon. They are checking to see if it was taken from Danny's home. Also, they had found another gun in another location and are checking to see if that is a part of the collection at Danny's home. Suspect has not been further charged as of yet. This 19 year old youngster has pretty well ruled out any life for himself in the future - if found guilty.
---
Sep 21, 2004
Charles T. Shatzer Sr (Age 74), longtime Florida Archery Association officer passed away today. Charley was President of FAA from 1980 through 1986 and was variously Past President, Executive Vice President, and Acting President from 1986 through June 2004... An active, vital, dedicated leader in Florida for over 24 years at the State level and 32 years at the club level (President of Orlando Archery Club).

An NFAA Life Member with 45 years of service, Charley had experience shooting in Europe before coming to Florida as a dedicated, lifetime barebow shooter. Between 1992 and 1997, for instance, Charley was Senior Male Barebow Champion of Florida at 14 Championships, and for the fun of it, he earned one Champion plaque for Senior Male Bowhunter Freestye in 1998 shooting 900 Rounds.

Charles Shatzer Sr shot the following FAA State Records for Senior Male Barebow: 436-Field (1994), 237-International (1996), 447-Double International (1996), 669-Triple International (1997), 1101-Field/Hunter/14Animal (1994), 712-810 Round (1992), 487-600 Round (1994), 242 at 60 Yards 900 Round (1997), and 745-Sunshine Games 900 (1995).

In his last years, he bowed to declining health and gathered a sight and release aid to continue shooting and quickly established himself as a skilled, accurate leading Senior Freestyle archer.

Charley has been respected, liked, and welcomed at both leadership meetings and shooting events throughout his archery career. He was presented with the Dillard Bucklen special achievement award for his service to FAA, his club, and archery as a whole. He was inducted into the FAA Archery Hall of Fame for administrative excellence as State President... and Charles Shatzer is one of only six Florida archers who have been presented with the NFAA Medal of Merit.

Charley will be greatly missed in our shooting sport. Archers wishing to contact his family should write to Mrs. Charles T. Shatzer Sr, 2903 Aein Rd, Orlando FL 32817-2908. According to his son Tom (former Florida NFAA Director), there will be a small, family only service.
---
I just received a note from Linda Barrs informing me that Jack had lost his 20 month battle with multiple malignancies. He died on Friday, 30 April 2004. As most of you know, Jack was a former President of FAA (In fact he was President when I became Secretary in 1973) and a life member of both FAA and NFAA. This year is Jack's 36th year as a member of NFAA.
Follows is part of the obituary which was published in the Jacksonville paper on Sunday, May 2:
Jack L. Barrs, a doctor in family practice in Jacksonville for 35 years who once was among the the Southeast's top 10 archers, died of cancer Friday at the Hadlow Center of Community Hospice of Northeast Florida. He was 74. Dr. Barrs, a Jacksonville native who as a Boy Scout attained Eagle rank and membership in the Order of the Arrow, took up bowhunting in 1964 and began entering tournaments in 1968. By 1971 he was considered among the top 10 archers in the Southeast.
He introduced both of his sons to archery at a young age and traveled to Seoul, South Korea, for the 1988 Summer Olympics to see one of them, Jay Barrs, win the individual gold and the team silver medal in archery.
Graduating from Lee High School in 1948, Dr Barrs attended Jacksonville Junior College before transferring to the University of Florida where he earned bachelor's and master's degrees in agriculture. While serving with a dental group in the Army, he decided to go to medical school. He graduated from the University of Miami College of Medicine in 1961 and was a member of Alpha Omega Alpha medical honor society.
During more than 35 years of family practice, Dr Barrs had privileges at Shads, St Vincent's, Memorial and Baptist hospitals. He was chief of family practice at Baptist Medical Center and was a past president of Baptist Children's Hospital.
Dr Barrs was a diplomate of the Board of Family Practice and served on the board of Child and Family Services for a number of years. He was among the doctors who initially contributed to purchase the ground where Memorial Hospital was built. He retired from practice Nov 30 1998 and later moved to homes in St Augustine and Interlachen.
In addition to archery, where he was a past president of the Florida Archery Association, Dr Barrs hobbies included fishing, bridge, swimming, tennis, snow skiing and genealogical research.
He was predeceased by a daughter, Mary Love Barrs in 1972.
Dr Barrs is survived by his wife, Linda; two sons, Jack L "Jay" Barrs of Sandy, Utah, and Bowen S. Barrs of Clearwater Beach; two stepchildren, James S Grant of Ponte Vedra Beach and Susan Grant Parrish of Jacksonville; a sister, Esther Wilson of Jacksonville; and two step grandchildren.
--------------------------------------------------------------------
I have sent condolence letters to his wife, Linda and to his son Jay. Linda's address is: Mrs. Jack L. Barrs, 2008 Vista Cove Rd, St Augustine FL 32084
Tim
---
JoAnn Minton wife of Rick Minton (former South Vice President and member for the Florida Archery Hall of Fame) has died (age 55). The Minton's were living in Palm Beach Gardens. JoAnn died after a 3 year battle with cancer.
---
CHARLES ALVIN "CHUCK" COWAN of Davenport Florida died of Lou Gehrig's disease on Friday, 5 September 2003. He was 71 years old. Chuck was made a life member of Gator Bowmen for his many years of work on our range. He continued to support the club and work on the range even after he could no longer shoot. When he moved from Gainesville to be closer to his son, he donated some of his old equipment to our club. Chuck first joined NFAA in 1965 in Indiana and after moving to Florida, he and his son Tim were active shooting in FAA and supporting the Gator Bowmen club. Chuck's active membership ended in 1993 with 26 years NFAA membership, but he never lost interest in what was happening with our club.
---
Gordon Bell advised us that his wife Ann Bell passed away on July 17 2003. She had gone into the hospital for some more work on her hip replacement, and suffered (5) heart attacks. Gordon and Ann are Canadian Citizens and were active in our Archery programs during the winter until recent years. Mobility was giving them both problems and they were unable to come South this past winter. Archery has lost a dedicated lady. They will both be in our prayers.
---
Richard B. "Dick" Evans, Life Member of FAA and NFAA, died last Saturday, 3 May 2003 just a couple of weeks short of his 94th birthday. Dick had been an FAA/NFAA members since 1977, over 26 years and he was the recipient of one of FAA's first Special Achievement (Dillard Bucklen) Awards for his support and promotion of archery in Florida. A muscle injury curtailed his shooting the last few years, but for 20 years he was a fixture at our championships. He was Senior Male Freestyle Limited Champion 20 times between 1990 and 1997 and many more times before that. As a Senior Male Freestyle Limited shooter in Florida, he still holds the following state records:
Field 482 1983
900-40 275 1981
SSG Field 460 1985
SRG 80-84 703 1993 Compound-Fingers
SRG 85-89 615 1997 Compound-Fingers
Dick's close friend, Chuck Nothdurft, writes:
"As you will understand, this is a most difficult note to write. It is my task to inform you of the passing of Richard B Evans on Saturday, May 3 - 17 days short of 94. For the past about 20 years Dick and I traveled the archery circuit, almost weekly. To the best of my knowledge there was no pain or suffering. He succumbed to a combination of kidney failure and pneumonia. I have enclosed a copy of the obituary... "
Newspaper Obituary:
"EVANS, RICHARD BENJAMIN, 93, of St Petersburg, died Saturday (May 3, 2003) at Palms of Pasadena Hospital, South Pasadena. He was born in Center Moreland, Pa., and came here 53 years ago from Binghamton N.Y. He was self-employed carpenter for several years in the Pinellas County area and was a former commissioner of Pinellas Park. He was a Marine Corps veteran. He was a life member of National Field Archery Association and was instrumental in starting the Suncoast Archers. He was a former member of the Lions Club and a longtime little league
baseball coach in Pinellas County. Survivors include a son, Richard D., Largo; a daughter Vivian Brown, St Petersburg; 10 grandchildren; and 18 great-grandchildren. National Cremation Society, St Petersburg."

---
Brown V. Rainwater, died on March 10, 1999.
---
---
---
Web site and contents created by the Florida Archery Association
Copyright © 2010 Florida Archery Association, All rights reserved.
Revised:Aug 7, 2010.